The most awaited moment for all boating enthusiasts and beyond is approaching. The 2021 Venice Boat Show, of which Marive Transport is the official partner, will take place from Saturday 29 May to Sunday 6 June 2021 at the Venice Arsenal. This is an event promoted by the Municipality of Venice, organized by Vela Spa, in collaboration with the Italian Navy and with the partnership of the Venice Rovigo Chamber of Commerce.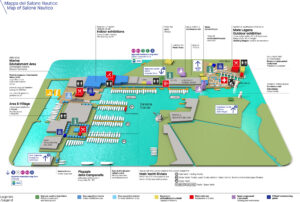 It is important to underline the uniqueness and inimitable location of the Boat Show, surrounded by an incomparable historical context, the Arsenale is the symbol of power of the Serenissima Republic and the heart of its naval industry. Located in the center of Venice, the location is characterized by a water basin of 50,000 square meters and over 1500 linear meters of piers that will host more than 250 boats in the water, fully restored ancient pavilions, 10,000 square meters of indoor exhibition and 30,000 square meters for open air display.
The 2021 edition of the Venice Boat Show will focus on sustainability and environmental impact, current and particularly recurring themes, the focus will be on mobility and electric, hybrid and innovative motors.
The very goal of Vela is to improve the positive impacts of the event on the social, economic and environmental front. The Venice Boat Show wants to be sustainable and this could be an opportunity to raise awareness on the subject of all the participants in the event and the whole city of Venice.