Marive Transport official partner of the event of the Venice Boat Show 2021 offers the direct line service dedicated to customers and visitors arriving from the mainland and who want to comfortably reach the Venice Arsenal.
The line's boarding point is in Via San Giuliano 88, adjacent to the Marive Transport infopoint.
At our headquarters, easily reachable from any motorway junction, we also provide a supervised parking service for all customers and visitors of the Venice 2021 Boat Show.
Direct line timetables: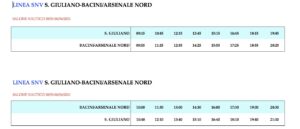 The discounted rates to reach the Venice Boat Show are:
A / R: 8 €
Single ticket: 5 €
Parking is free for visitors to the show.
Venezia Unica card holders will be able to access the line service with ordinary tickets loaded on their personal and non-transferable card.